Skip to Content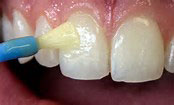 At St. Louis Hills Dental Group, we have changed the way we provide cavity preventing fluoride to our patients. In the past we used gel or foam fluoride on patients we saw at our office. The fluoride was placed in a soft tray and placed in the patient's mouth. Often patients could not tolerate the trays and therefore did not receive the benefit from the fluoride.
New "paint-on" fluoride varnishes eliminate the need for trays and are better tolerated by all patients. The new material we use is ranked as best overall in a clinical test of the 19 brands on the market. The material also can be used on children of all ages and on adults who are prone to decay or sensitive teeth. The fluorides are also great for orthodontic patients who have brackets or wires on their teeth.
Ask us if fluoride varnish would be something that would benefit you or someone you know.